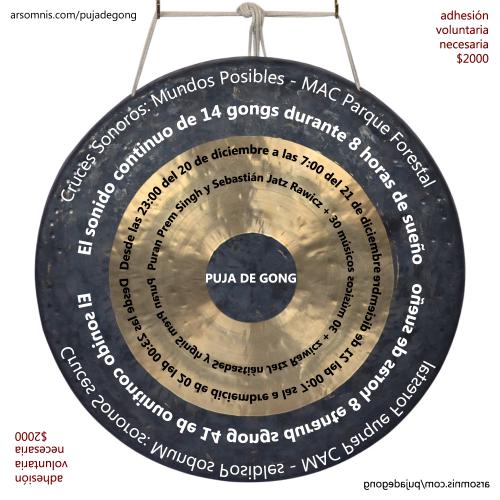 The Gong Puja is a meditation ceremony and an exercise in consciousness and dreaming, listening to the uninterrupted sound of several gongs during eight hours.
Throughout the Gong Puja one falls asleep or meditates in silence, receiving the vibrations that fill the space, passing through our body and ending with sunrise.
The present Gong Puja was the first one held in Chile and took place during the night of the summer solstice of 2016, between 23:00 on December Tuesday 20 and 7:00 on Wednesday 21 at the Central Hall of the Contemporary Art Museum in Parque Forestal, Santiago, Chile. The musicians gathered at 21:00. The public entered the hall at 21:30. At 22:00 Puran Prem Singh gave a brief introduction and performed a series of breathing mantras and intonation exercises. At 23:00, the puja began with drum beats and conch blowing, followed by the sound of the gongs until 7:00. At 7:00 a silence of 30 mins took place, followed by breakfast at 7:30.
Together with the Gong Puja, three bell blows took place (see The 400 Blows) at 23:48:46, 3:49:58 and 7:50:00.
The Gong Puja was led by Kundalini Master Puran Prem Singh who has developed a sustained research and practice on the sound and vibration of the Gong, as well as its benefits, applications and effects on the well-being of people.
Our thanks to Alessandra Burotto and the Anilla Chile team, Javiera Peón-Veiga, Fernando Godoy, Julio Escobar, Bruno Giliberto and Rodrigo Ríos.
MUSICIANS
Puranprem Singh
Patricio NarayanJot Singh
Guru Mantra Singh
Sebastián Jatz
Alvaro Ortega
Catalina Menares
Andrés Gaete
Cristián Parker
Tomás Brantmayer
Daniela Shejade
Marcelo Maira
Rodrigo Ríos
Cristóbal Menares
Christian Delon
Jaime Pancacio Rozas
Lorena Pulgar
Andrés Chinchón
Sebastián Pinto
Francisca Gómez
Armando Saragoni
Eric Rodríguez
Eduardo Astudillo
Bárbara González
Nicolás Sandoval
Gaspar Ángel
Raúl Díaz
Román Torres
Juan Cuarzo
Nicolás Arancibia
Magdalena Isaacson
Julio Escobar
Lorna Remmele
Renata Figueroa Lago
Marcela Rodríguez
Verónica Sepúlveda
Lights by Julio Escobar
Audio Recording by Rodrigo Ríos
Introduction, breathing exercises and mantras

Drum, conch blowing, followed by Gong Puja

Photographs by Bruno Giliberto